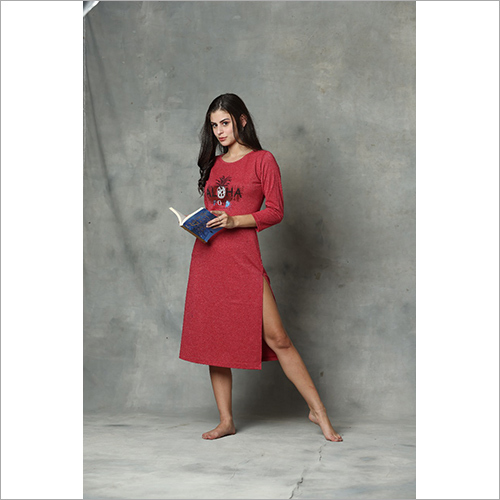 Trade Information
1000 Piece Per Day

7 Days

All India
Product Description
Often referred to as a nightgown or nightdress, a ladies nighty is a sort of sleepwear made exclusively for women. Nighties are often comfy and loose-fitting, allowing for easy mobility while you sleep. To accommodate varied tastes and climates, they are available in a variety of lengths, styles, and fabrics.
Here are a few popular varieties of nightgowns for women:
1. Short Nightie: Short nighties are often above the knee length, giving off a more relaxed and unstructured appearance. They are perfect for warmer weather or people who prefer less coverage while they sleep because they are frequently produced from lightweight fabrics like cotton or modal.
2. Knee-Length Nightie: Knee-length nighties end at or just below the knee. They are appropriate for year-round wear and offer a mix between comfort and coverage. Knee-length nighties come in a variety of fabrics, from smooth satin to breathable cotton, offering various degrees of comfort and style.
3. Long Nightie: Long nighties, commonly referred to as maxi nightgowns, reach the floor or the ankles. They provide the most coverage and are ideal for cooler weather or for people who prefer more subdued nightwear. To increase warmth and comfort, long nighties are frequently made from soft materials like flannel, fleece, or jersey.
4. Chemise Nighty: Chemise nightgowns are usually constructed of flimsy, lightweight materials like satin or silk. They have a more streamlined style and frequently have pretty lace or ribbon accents. Chemise nightgowns are noted for their elegant and seductive design and come in a variety of lengths.
5. Vintage-Inspired Nightie: Classic styles from the past serve as the basis for vintage-inspired nighties. They might have lace trims, ruffles, empire waists, or vintage-inspired designs. Vintage nightgowns appeal to those who value classic fashions since they have a nostalgic and feminine touch.
Consider elements including personal comfort, desired coverage, temperature, and fabric preferences while selecting a women's nightgown. It's crucial to pick a nightgown that reflects your individual style and enables you to unwind and sleep peacefully.
Enter Buying Requirement Details
"We are accepting bulk order quantity only."