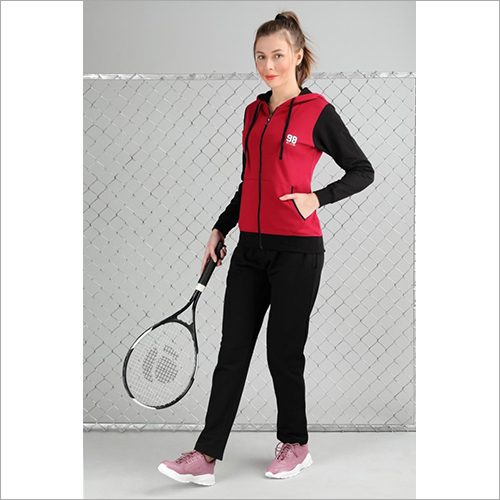 Product Specifications
Adults

Tracksuits

Other

Women
Trade Information
1000 Piece Per Day

7 Days

All India
Product Description
Women who participate in sports or just want a casual clothing that is comfortable and fashionable often opt for ladies sports tracksuits. A jacket or sweatshirt and matching trousers or leggings make up most sports tracksuits. In order to increase comfort when engaging in physical activity, they frequently include qualities like moisture-wicking fabric, stretchability, and breathability. They are made to allow for freedom of movement.
There are many different patterns and styles for women's sports tracksuits as a result of the growing emphasis in recent years on fusing functionality with fashion. Popular choices comprise:
1. Tracksuits with matching trousers and a zip-up jacket are known as 'classic tracksuits'. They often come in a variety of colours and patterns and are constructed of materials like nylon or polyester. Traditional tracksuits offer a timeless and adaptable aesthetic appropriate for a variety of sports or informal activities.
2. Crop top and leggings combos are a popular option for people who desire a more contemporary and form-fitting look. These outfits often consist of a cropped jacket or shirt and high-waisted leggings for a polished and stylish appearance. They are frequently crafted from elastic, moisture-wicking materials like spandex or polyester blends.
3. Tracksuits with vivid, contrasting colour panels on the jacket and trousers are known as 'colour block tracksuits'. The tracksuit gains a colourful and striking feature from this design, making it a stylish option for both casual and athletic use.
4. Tracksuits for Athleisure: In recent years, the distinction between activewear and regular clothing has become more hazy thanks to the athleisure trend. Athleisure tracksuits incorporate fashionable features like current styles, patterns, or embellishments along with the comfort and practicality of sportswear. They can be dressed up or down depending on the occasion and are appropriate for many different activities.
5. Brand-specific Tracksuits: Many sports wear companies have their own lines of women's tracksuits with their distinctive graphics, branding, and styles. These tracksuits frequently feature the most recent performance innovations and materials unique to the brand, combining fashion and utility.
It's important to take into account aspects like the intended purpose, fabric quality, fit, and personal style preferences while selecting a women's sports tracksuit. There are many options to meet your requirements and preferences, whether you're playing sports, going for a run, or just relaxing.
FAQ
1. What materials are generally used to create women's sports tracksuits?
Ans - Polyester and nylon, two lightweight, breathable fabrics, are frequently used to create women's tracksuits. These substances are made to control body temperature while wicking sweat from the body.
2. What criteria should I use to determine the appropriate size?
Ans - A suitable fit for a tracksuit depends on accurate measurement. Pay close attention to the chest and hip dimensions since they frequently indicate the appropriate size. Choose a fabric that will be comfy for you to move in while exercise as well.
3. Can tracksuits be worn for different sports?
Ans - Yes, a lot of tracksuits feature adaptable designs that are appropriate for a variety of sports. They are not only cosy for exercising, but they also offer excellent weather resistance for outdoor sports like running.
4. What types of tracksuits are available for women?
Ans - Women's tracksuits are available in a range of styles, from full-length jumpers to thin zippered coats. Numerous businesses also provide personalised choices to help you achieve a chic and unique style.
5. How should my tracksuit be maintained?
Ans - It's not too difficult to maintain a tracksuit. To avoid any fading or damage, turn the item inside out before washing. The fabric's form and colour will be preserved if you use a mild cycle. Avoid using fabric softeners as well to maintain the tracksuit's quality.
Enter Buying Requirement Details
"We are accepting bulk order quantity only."